Little CMS Color Translator 3 is the definitive tool for convert, assign, embed ICC profiles in TIFF, JPEG, PNG, OpenEXR, WebP and PDF files. Works in background for image lists or as hot-folder. Supports many variants for each format. It can deal with RGB, CMYK separations, CIE Lab images, black-preservation, smart intents, abstract profile adjustment chains, linear light color spaces… WORKS FOR FREE ON IMAGES UNDER 60K
---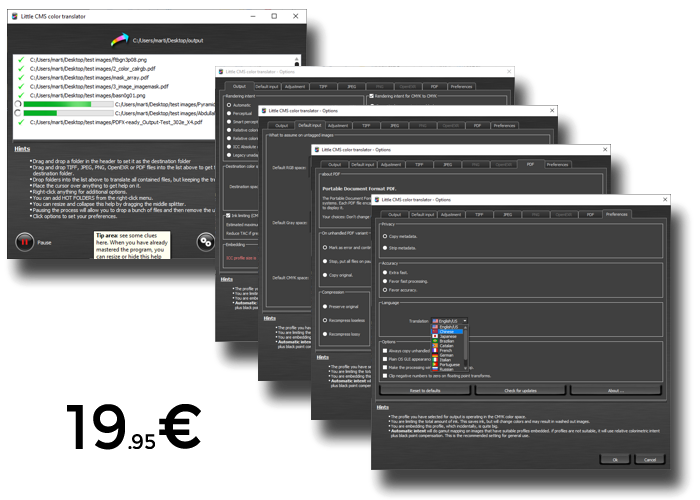 Drop images to translator and get them converted in the target folder.
From any colorspace to your choice. Batch processing in a fast and intuitive way.
Multithreaded: Convert tons of images in batch mode. Take advantage of all the power your computer has.

Unattended: Drop a folder, minimize the translator and get it it back when all work is done.

Consistent: Color Translator does not use the OS color manager, but the littleCMS engine, which is portable and highly consistent.
That means you will get same results on Mac and Windows.

Easy to use, yet extremly powerful
What I would want this application for?
To embed or remove ICC profiles in your images, converting data if necessary.
To get good printouts from that print service provider that only handles sRGB, but he doesn't even know that.
To add color management to color-dumb hot folders.
To get your one-hundred AdobeRGB1998 photos published on the web without die trying.
To share photos with your team using a projector.
To prepare prepress CMYK separation and keep some control on inks.
To convert color spaces without PhotoShop.
To complement PhotoShop with gamut mapped conversions.
Many more…
Take full control
Convert from / to RGB, Gray, CMYK or CIE Lab.
Use the provided built-ins or your favourite ICC profiles.
Embed or omit the profile.
8, 16 bits and floating point.
Tune the ink
Create CMYK separations on TIFF or JPEG files from any colorspace.
Limit the total amount of ink to fit your needs.
License includes perpetual free upgrades to future versions. We offer huge discounts for ACADEMIC, BULK or CORPORATE usage. Please contact us to get a quote!
Download for free the Color Translator to give it a try.
Evaluation is only limited to images below 60 Kb or included demo images.
All color conversions, file formats, features and languages are working in the evaluation mode.
It can become fully functional after purchasing, by using the registering procedure.
If uncertain on which windows you have, please select 32 bits.
For Mac, it requires 64 bits.
| | | | |
| --- | --- | --- | --- |
| Download for Mac | Download for Windows 32 | Download for Windows 64 | We have translator for linux too |
| | | | |
| | | | |
| click for purchase | click for purchase | click for purchase | Contact us for the linux version. |
| | | |   |
What is new in version 3.5
New file format: WebP support, either as a file format or as a TIFF codec
Animation support for WebP
New TIFF Compressions: WebP, and JPEG
Alpha channels on TIFF
Premultiplied (associated) alpha on TIFF
Output intents in PDF
Your feedback is important! For comments, suggetions, bug reports, etc. please contact me at info { at } littlecms { dot } com
---